In the News
Rainier Grad Joins Longview PT Staff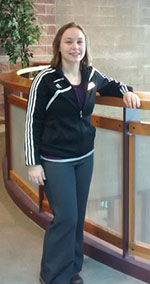 Physical therapist Beth Murphy has joined the staff at Longview Physical & Sports Therapy.
A graduate of Rainier High School, Murphy graduated from Linfield College with a B.S. in Exercise Science before earning a doctorate degree in physical therapy at the University of Puget Sound.
She completed internships with 3D Physical Therapy & Sports Conditioning (Tacoma), University Place Care Facility (University Place), and Portland VA (Portland). Most recently, she worked for Metro Parks of Tacoma as an adaptive recreational specialist.
Murphy was attracted to LPST because of the great treatment her family members have received there. In fact, it's what convinced her to pursue a degree in physical therapy.
"My grandpa had a series of strokes that caused severe back pain," she said. "Prior to receiving care at LPST, he was saying that he wanted to die. After treatment, he started feeling better, and we ended up having him in our lives for another two years. That experience made me want to do whatever I can to help give people back their loved ones."
When she's not working, Murphy enjoys snowboarding, longboarding, playing soccer, traveling and spending time with family and friends. "I also play and coach wheelchair basketball and often spend time in Tacoma helping with adaptive sports," she said.
LPST is located at Pacific Surgical Institute at 625 9th Avenue. Call 360.578.1188 for more information.
Longview PT and Longview Ortho form close bond
When Pacific Surgical Institute opened in 2006, Longview Physical & Sports Therapy was one of the original tenants to occupy the state-of-the-art medical facility on 9th Avenue.
LPST's Bruce Peterson, who now co-owns the business with John Kowalski, said the move from the Fir Medical Complex to PSI was a natural because it put his clinic directly across the waiting area from Longview Orthopedic Associates. "The complexity of patient care benefits from our clinics having a close working relationship," Peterson said. "The ability to walk across the hall and ask a quick question is very important for us and our patients."
In addition to the ease of communication with the orthopedic surgeons, Peterson said it is efficient for the LOA staff to check patients in at the LPST office and convenient for patients to set up post-op physical therapy visits prior to surgery to ensure that they receive treatment promptly.
When LPST moved into the building, the business grew, necessitating the purchase of new equipment and the hiring of more employees. Peterson, who has more than 30 years of experience as a physical therapist, said that during the past 10 years profession has seen several significant changes, including the need for staff with advanced training and certification in orthopedics and an interest in sports medicine.
"I believe we're successful because we focus on one-on-one patient care that addresses each patient's needs and desires," Peterson said. "We have well-trained ortho-specialized physical therapists who are up to date on current research and employ evidence-based treatment."
He expects the future to hold its share of challenges, particularly when it comes to providing high-quality care when reimbursement is low. "And we need to stay focused on convincing patients to be engaged in their own care if they're going to see the best results," he said. "We can serve as coaches to encourage them to adjust their goals and aim for a more active lifestyle."
Contact Longview Physical & Sports Therapy at 360.578.1188 for additional information or to schedule an appointment.